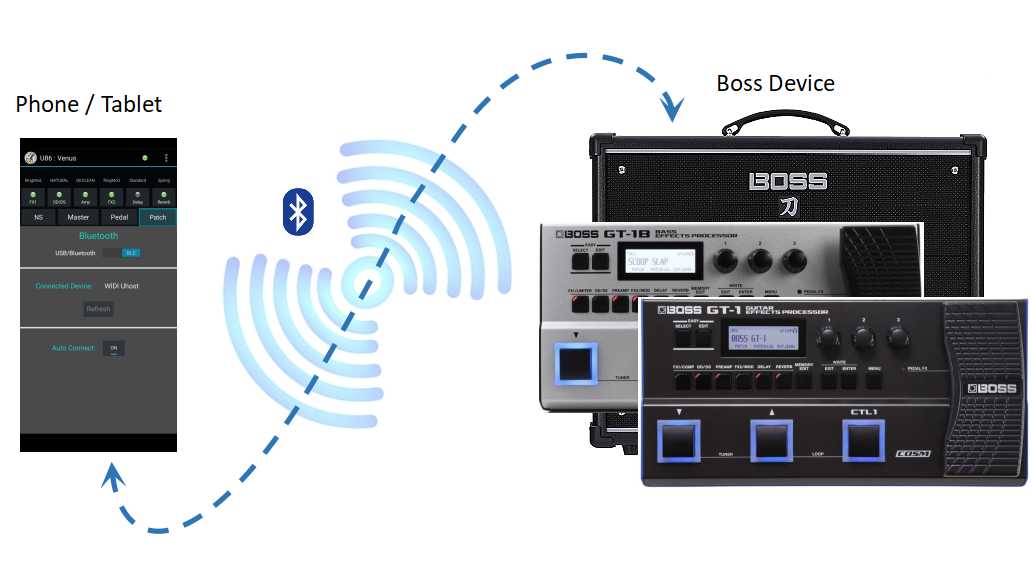 EatonPlan apps are progressively implementing the ability to connect to your Boss™ Katana amp or GT effects processor using your Android device's Bluetooth connectivity, and a compatible, third party Midi/USB adapter. This guide provides details on how to set-up a Bluetooth connection.
In order to establish a Bluetooth connection between your Android phone/tablet and your Boss™ device (eg Katana amp, GT-1, GT-1B etc) you will need the following :
A compatible, third party Midi/Usb adapter. NOTE: Since the Boss 'Midi over USB' implementation is not fully class compliant, you will need an adapter which specifically supports connections to Boss devices. For details of the currently validated compatible adapters, see later in this guide.

A USB cable compatible with your Boss device.

An OTG (On-The-Go) adapter cable compatible with your Midi/USB adapter. Typically this will have a USB Type C connector.

A USB power supply and cable for the Midi/USB adapter.
The following diagram gives an overview of the connection arrangement (using a Boss GT-1B as an example).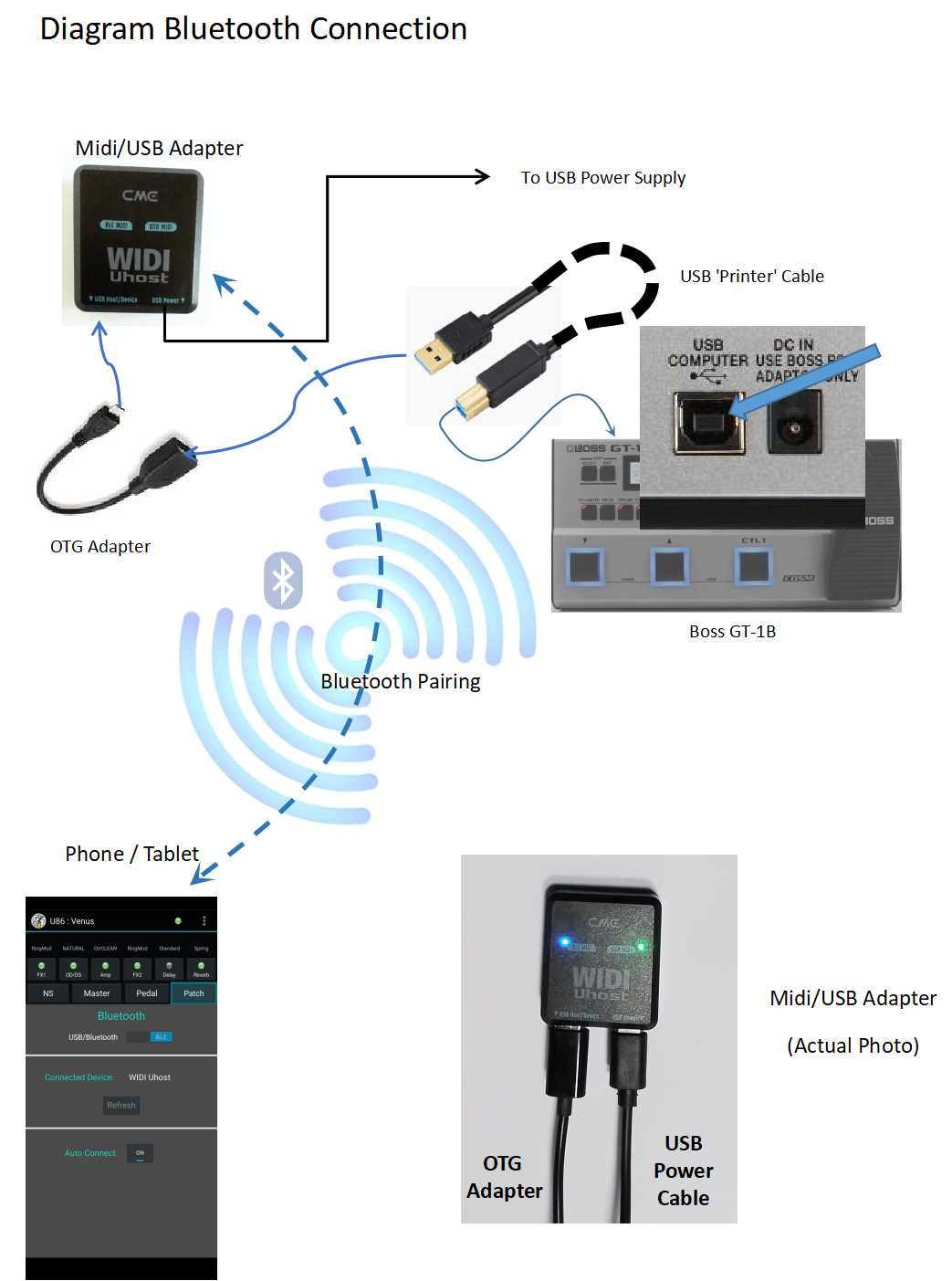 First, the Midi/USB adapter needs to be connected to a USB power supply with a regular USB cable. Then the Midi/USB adapter should be connected to your Boss device (Katana, GT1 etc) using an OTG adapter cable and a USB cable (often referred to as a 'printer cable').
With the Midi/USB adapter powered on, you should be able to pair it with your Android phone/tablet as you would for any other Bluetooth device.
Once Midi/USB adapter is paired, in your EatonPlan app (eg GT1Man), navigate to the menu option 'General | Bluetooth' and switch to USB mode. You should be presented with a list of compatible Bluetooth devices for you to connect to. Select your Midi/USB adapter and press 'Connect'. A connection with your Boss device should then be established. If you don't see your Midi/USB adapter listed, try using the 'Refresh' button, or alternatively, use the 'Show All' option to see all of the Bluetooth devices currently paired with your phone/tablet.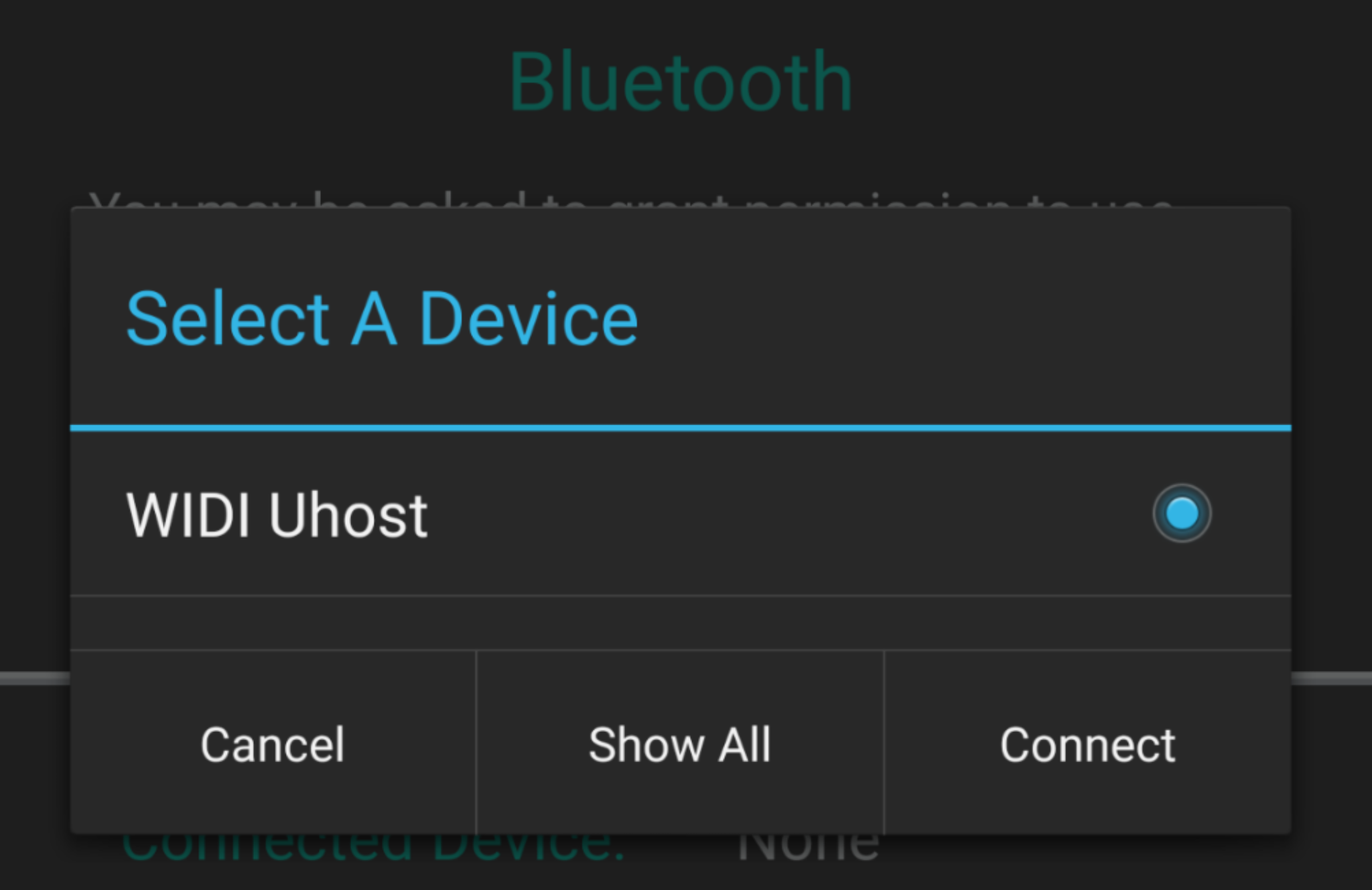 If you want to automatically connect to this Midi/USB adapter in the future, press the 'Auto Connect' button to turn it 'On'. Then next time you start the app, a Bluetooth connection should automatically be established.
Compatible Midi/USB Devices
As at Oct 2022, the only Midi/USB adapter validated to work with the Boss products is the 'CME WIDI Uhost' product.
IMPORTANT : CME have developed a firmware update that is specifically designed to work with Boss devices. It is essential that you ensure that your CME uHost adapter is using USB firmware version 3.6. Follow the manufacturer's instructions as to how to check the firmware version, and how to perform an upgrade if required. If you are using a firmware version earlier than 3.6 your uHost will not connect to your Boss device (eg Katana, GT1 etc).