These are the requirements in order to connect the KatanaMan app to your Katana-100 guitar amp:
An Android device with full OTG support (also called Host support) . Most recent devices have this support, but not all.

A suitable USB cable to plug into the back of the amp. Note: The Katana-100 amp has the square-ish style USB socket on the back.
USB socket on back of Katana-100 amp
An OTG ('On The Go') adapter cable to allow connection to the mini USB connector that most Android phones and tablets use. The OTG adapters can be found on-line, and are not too expensive (often less than $3). They are designed to allow you to connect a USB device (eg USB memory stick) to your Android device. Note: Some of the (cheap ?) OTG adapters bought on-line are faulty. If in doubt try connecting a USB memory stick to your Android device, via your OTG connector, to check that it works OK.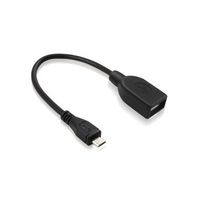 OTG Adapter
For more information on how to connect, use the link below: